Welcome!
Wings & Things is a home based business that has been in development for several years. It encapsulates a passion for creativity and design and also reflects my own humourous take on the bounty of nature.
I've spent years collecting driftwood from nearby Nova Scotian shores that later became an integral part of my designs. Bleached by the sun and smoothed by the ocean, each piece is uniqe in its beauty.
My other hobbies of gardening and bird watching led me to try adding my own whimsical creations to my home and garden. Thanks to the encouragement of friends and neighbours, my "making things" has turned into a little business that I love.
I draw my inspiration from nature and will try every type of flower, bird and animal in a fun and amusing style.
Each piece I make has been uniquely handcrafted of old barnwood and driftwood and hand painted. The bird-houses are fully functional "working bird-houses" that require minimum care. They are sturdily constructed to be able to withstand the elements of nature. However, I recommend taking them inside during the winter.
Upcoming Shows
No upcoming shows at this time. Please check back often!
From the Blog
Refreshed Website!
1 year ago
We hope you enjoy our refreshed website! Let us know if there is anything you'd like to see added.... Read more
Featured Design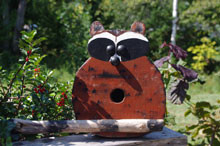 Raccoon